Sunshine Home and Companion Care is a Christian based business and runs their whole business based on biblical values and truth. All employees follow the basic principles of Christian living and integrity with excellence. We will not tolerate any activity or actions that display anything less then what Jesus Christ would expect. We take great measures to ensure that the love of God is displayed in our work. With that said, we show love and respect to each client and their families despite their belief system. We extend love to everyone we meet.
First and foremost, our mission is to Glorify God (our foundation) in our work in the ability to nurture and care for the seniors of our community. And secondly, to provide our clients and their families with excellent customer service.

My story is the start of this mission.
How did Sunshine Home and Companion Care come to be?
How did Sunshine Home and Companion Care come to be?
In short, my mother was affectionately known as "Sunshine" by all of her grandchildren.  Since rocking them as babies in her rocking recliner singing "You are my Sunshine". 
While Sunshine spent her last years in and out of rehab, it was my mission to be present at all times.  It occurred to me that there were many there that longed to be home. They would have loved to have been home with a little extra help to do the things that they could no longer do around the house. 
I understood that grown children are sometimes long distance and do have families and work. This can be a challenge to the grown children in deciding what kind of help their senior parent or loved one needs. 
I made it my mission to be of service to the seniors of our community and surrounding area. It is my privilege to sit with families and come up with a plan and put it in place.
Call us today or contact us here for a meet and greet to discuss what is needed and to provide you with all that we do.
– Sandie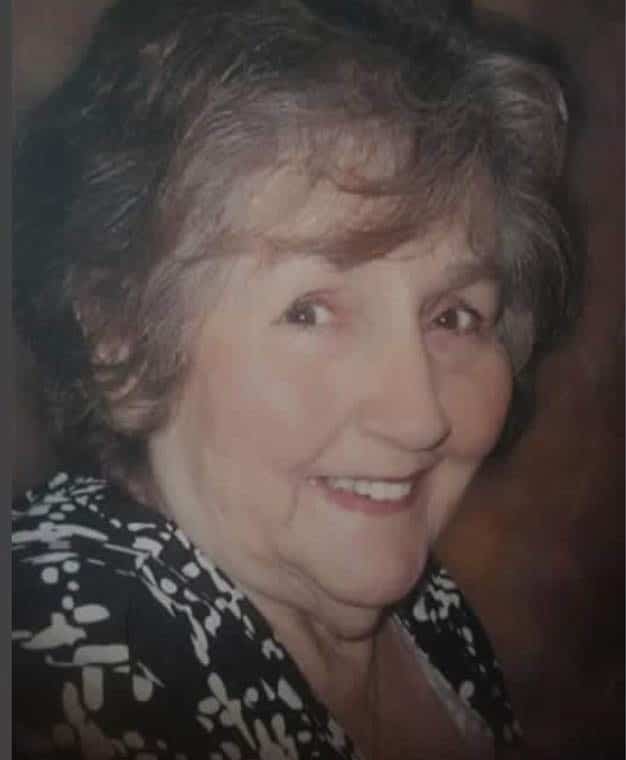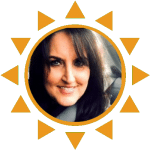 Sandie Gipson
Owner/Operator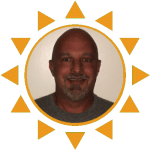 Carl Bolin
LPN/Caregiver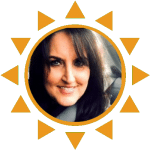 Sandie Gipson
Owner/Operator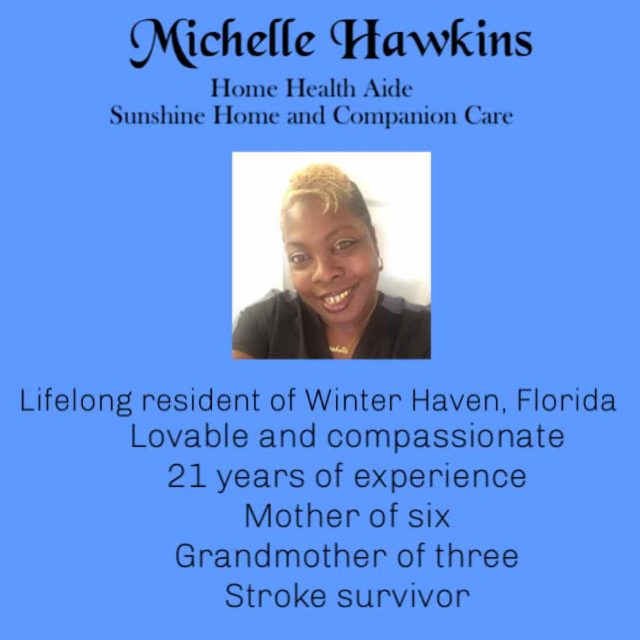 Hello, I'm Michelle Hawkins! I work for Sunshine Home and Companion Care as a home health aide. I am a lifelong resident of Winter Haven, Florida, I'm lovable and compassionate, I have 21 years of experience, I am a mother of six and a stroke survivor.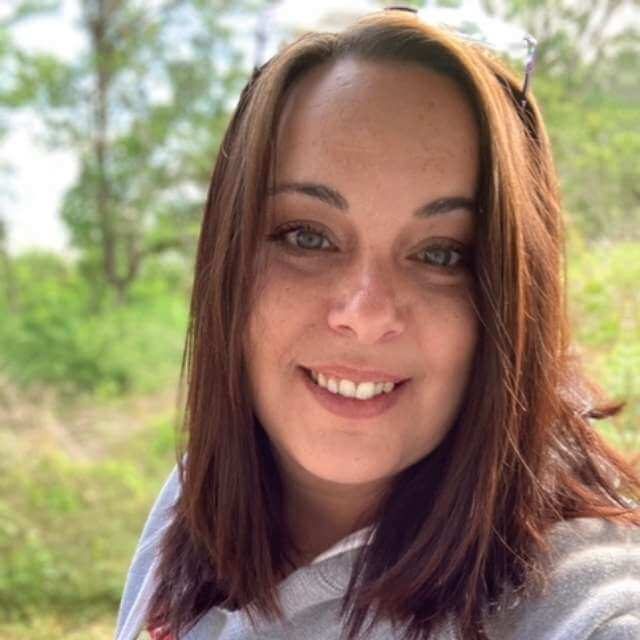 Sara is a long time resident of Winter Haven, born and raised in Polk County. Being a native, she is very familiar to the area and is well planted and established to serve the community. Because of her love of the area, she is familiar with the needs of our community. 
Sara is very family oriented and loves the bond she has with family, friends and clients. She has 3 beautiful daughters and one granddaughter and another grandchild on the way.
Sara has vast experience in the senior industry and is committed and devoted to the seniors of the community.  Ranging from her work profession in the industry to community involvement with the seniors of our area, she enjoys serving our senior community.
We are pleased that she is a member of our team and is a great addition to Sunshine Home and Companion Care and our community. Her loyal dedication and drive are a huge benefit to us.
Born and raised in florida! New to being a mom and loving every second of it. Very devoted to my family and loved ones! I love animals and anything out doors. I love helping people, especially through hard times. It makes me the happiest to see someone else smile.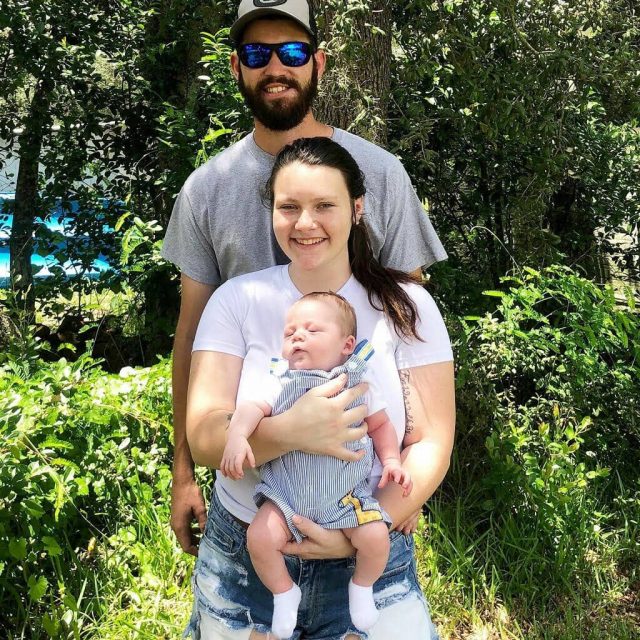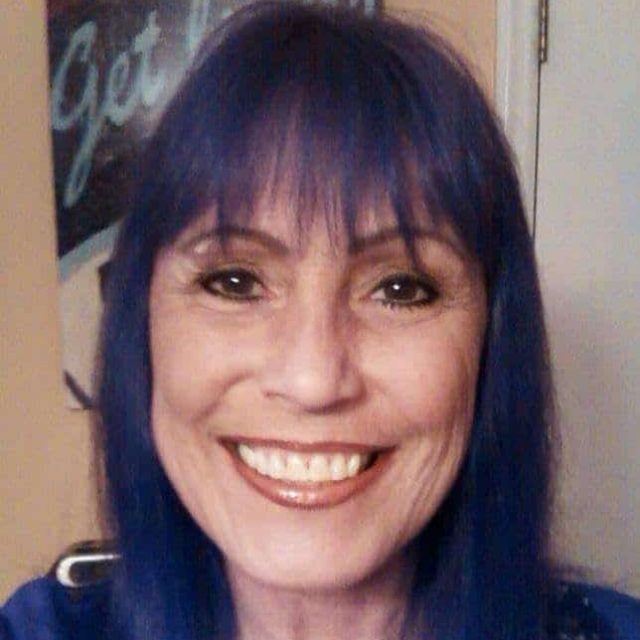 I am from Illinois but have made Florida my home for over 30 years. I enjoy fishing, boating and the beach. I've found helping people who need an extra hand is such a rewarding feeling. It's an honor to care for the seniors of our community.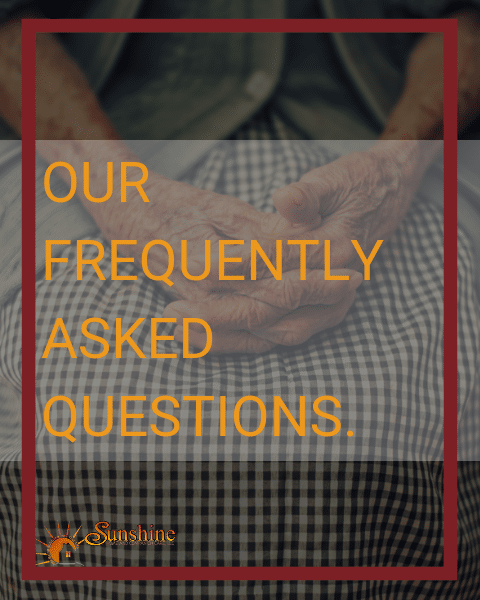 Frequently Asked Questions
Gipson, McGaffigan named
Caregivers of the Year
  Caregivers Sandra Gipson and Jill McGaffigan were awarded the Family Elder Law Caregivers of the Year distinction on Friday, November 15, at the Family Elder Law Taste of Buffalo. This fourth annual Lake Wales Chamber of Commerce after hours event, hosted by business partners and life-long friends, Jason Penrod and Dennis Scovazzo, strives to bring their hometown of Buffalo, New York, to Lake Wales. Again this year, Jason and Dennis pulled out all the stops to provide over 300 guests with an authentic Buffalo experience complete with Beefon Weck, sponge candy, pizza rolls and of course, Buffalo Wings.
  In addition to the award winning menu, the highlight of the evening was the recognition of the eight Caregiver of the Year finalists. This award was developed last year to honor local caregivers who selflessly devote themselves to others. This year, the award has expanded to now award two caregivers: one professional and one volunteer. The finalists who were all presented with plaques and gift baskets were: Pam Bracey, Sandra Collins, Barbara Cook, Sandie Gipson, Jill McGaffigan, Betty Jordan, Deborah Lacroix, Cora Schwingel and Cindy Sutliff. Winners, Sandie Gipson and Jill McGaffigan, were also each awarded a cruise for two.

  "Family Elder Laws motto is 'Helping Seniors and Those Who Love Them: and we are thankflul for the local caregivers, both volunteer and professional, who dedicate their lives to serving the elderly. We believe that this award is just a small
token of the appreciation towards the recognition that they deserve," said
Family Elder Law director Dennis Scovazzo.
She has the biggest heart I've ever seen for those that many of whom are left to finish life alone. If you're ever fortunate enough to meet her, you'll discover, she's a life changer.
If you are in need of a safe, loving environment for your loved one I highly recommend
Sunshine Home
and Companion Care.
This company is an
amazing blessing
to those who need
assistance.
Schedule Your Free Consultation Today
Subscribe to our newsletter
Subscribe to The Sunshine Care Group Newsletter to receive great tips on caring for yourself or loved ones.
By submitting your email address, you agree to Sunshine Home and Companion Care, LLC's privacy policy.